The foundry plant UXA
The foundry plant UXA is one of the oldest and continuously operating foundry plants in Central Europe that has been in the operation since 1886. The annual capacity of the foundry exceeds 3,000 tons of ductile, grey and ADI cast iron. The foundry is equipped with the laboratories containing the metallographical microscope, the spectrometer with the certificate of qualification and the 3D measuring appliances.
Our own pattern-room enables the production of wooden and composite patterns. Cooperating with specialized pattern plants, we guarantee the production of accurate and complex patterns made of light alloys.
The foundry plant UXA holds the System of Quality Regulation Certificate EN ISO 9001:2015.
The production programme
We produce the grey cast irons, the ductile cast irons and ADI for the castings ranging from 0,1 kg up to 200 kg.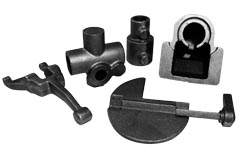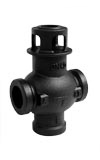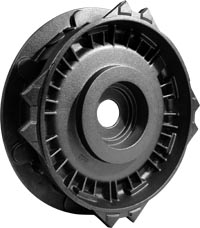 gray cast iron
ductile iron
ADI cast iron
HSI high silicon cast irons
EN-GJL-150,

(5.1200)




GG-15, EN-GJL-150

EN-GJS-400-18-LT,

(5.3103)




GGG-40.3, EN-GJS-400-18-LT

EN-GJS-800-10,

(5.3400)




EN-GJS-800-10, EN-GJS-800-10

EN-GJS-450-18,

(EN-GJS-450-18)

EN-GJL-200,

(5.1300)




GG-20, EN-GJL-200

EN-GJS-400-15,

(5.3106)




GGG-40 , EN-GJS-400-15

EN-GJS-900-8,

(5.3402)




EN-GJS-900-8, EN-GJS-900-8

EN-GJS-500-14,

(EN-GJS-500-14)

EN-GJL-250,

(5.1301)




GG-25, EN-GJL-250

EN-GJS-500-7,

(5.3200)




GGG-50, EN-GJS-500-7

EN-GJS-600-10,

(EN-GJS-600-10)

EN-GJL-300,

(5.1302)




GG-30, EN-GJL-300

EN-GJS-600-3,

(5.3201)




GGG-60, EN-GJS-600-3

EN-GJS-700-2,

(5.3300)




GGG-70, EN-GJS-700-2

EN-GJS-SiMo50-6,

(5.3118)
The foundry focuses on the production of middle and small individual series of castings used in broad range of utilization.
Fittings
Paper and textile machines
Conveyors and Handling Equipment
Army industry
Pumps
Polygraphic machines
Motor stators and clutches
Parts for boilers
Machine tools
Mining machinery
Součástky pro elektrifikaci železnic
Brakes
Hydraulics
Own specialized production
Agricultural machinery
Ewart and pintle chains
Spare parts for metal saws
Following our customers' requests, we provide machining shaping, annealing, colouring and hot-dip galvanizing or zinc plating.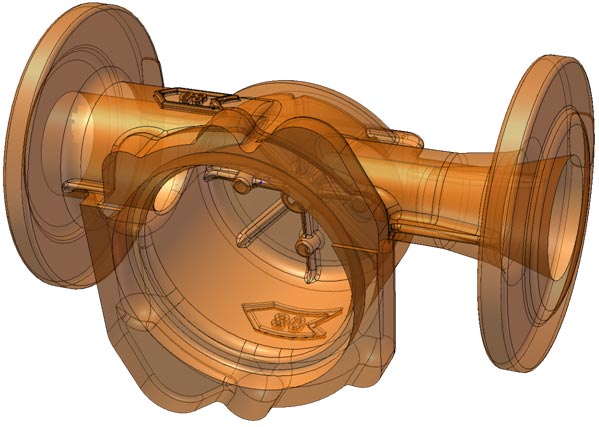 Technological Equipment
The eight-ton and four-tone rotary oxygen and gas furnaces with the automatic control of the combustion process by AIR LIQUIDE company and online connection controlling the chemical composition of a melt.
Pattern shop for production of wood, epoxy and metal models. Its nuclear COLD BOX machine for core volume 5-40 liters, 2 automatic mixer core mixture with a capacity of 4 t / h. Two machines for producing cores HOT BOX method.
Moulding is provided by the jolt-squeeze machines organized into four independent moulding lines Foromat F10, F20 , F40 and Dozamet FKT 1212
The castings are cleaned on rotating barrel, hanger or table airblast machine.
Quality Control
The foundry has a fully certified sand and metallographic laboratory with digital microscope, thermal and spectral analysis of metal. Models and casts are checked using a Zeiss 3D measurement center. All production processes are digitized and the management information system in the foundry is subject to ISO 9001:2015 standards. We hold the certificate PED 2014/68/EU - quality assurance system manufacturer of materials for pressure equipment.
Flask sizes
400 x 300 x 100/100 mm
600 x 450 x 150/150 mm
780 x 680 x 260/210 mm
1000 x 1000 x 450/450 mm
1200 x 1000 x 360/360 mm
1600 x 600 x 120/240 mm
Chain and Chain Wheels
Pintle Chain
Pintle chain consists of open links made of ductile iron casting. The links are connected by steel pins that are placed in the eyes motionlessly while in the links, they are placed in a rotary way. The pintle chain is solid enough so it can be used in very demanding conditions.
Ewart´s Chain
It consists of closed links made of ductile iron castings. The links have a cylindrical pin on one side, whereas there is an open hooked sleeve on the opposite side. Within an appropriate angle, it is possible to hook the sleeve on the pin of the following link.
The chain is very flexible and strong, with links easy to be connected on whatever place, and therefore, the chain can be shortened or lengthened if necessary. The chain is resistant to humidity and it is stable even in warm conditions.
Chain Wheels
The chains and chain wheels are used for conveyor belts, reservoirs, small water power stations, agrarian machines, sewage water treatment plants, mills, brickfield etc.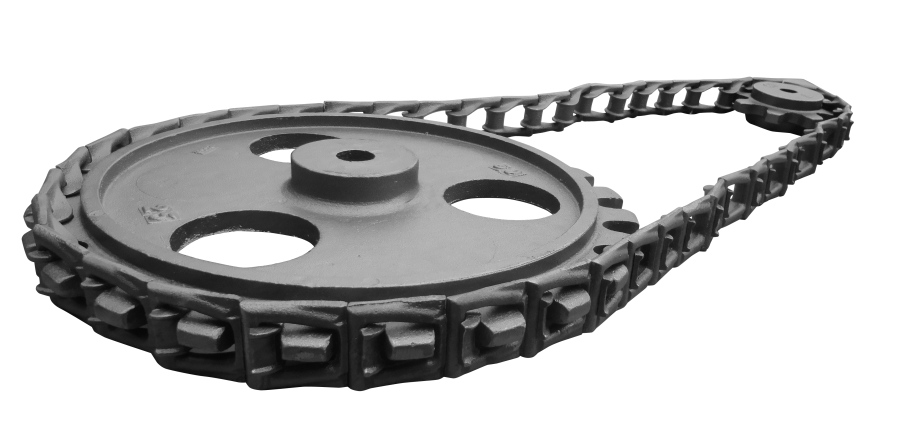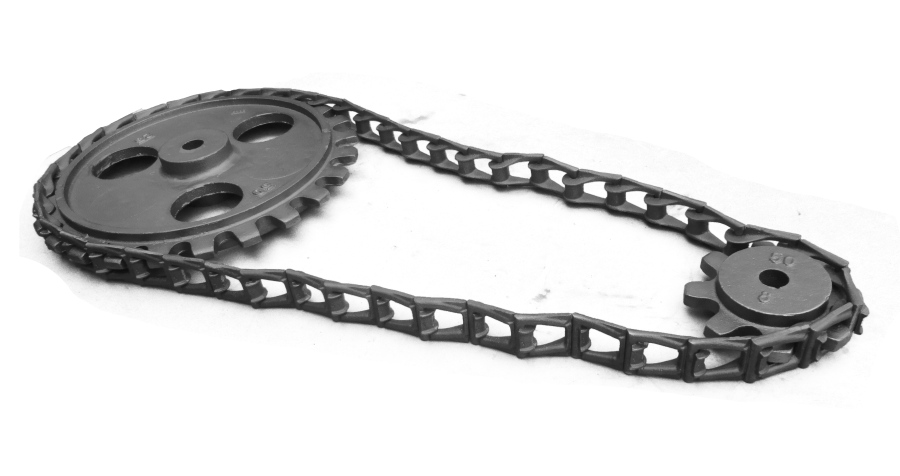 ADI cast iron - material of the future
Isothermal Hard Ductile Iron (ADI) is an advanced material that is standardized worldwide by organizations such as ASTM, ISO and SAE.
ADI has grown over several decades in sectors such as heavy goods vehicles, rail transport, mining, agriculture and light vehicles.
ADI offers a combination of excellent mechanical properties, such as the high strength to weight ratio, which makes it worthwhile to replace steel forgings and weldments.
ADI offers good manufacturability and flexibility due to casting in the foundry. This allows designers to easily add or remove material where it is needed and thus easily achieve optimal solutions with minimizing costs, reducing the weight of the product, and eliminating unnecessary parts.
No need for welding or unnecessary assembly of multiple parts into one unit. Casting from ADI can have complex shapes.
ADI provides extraordinary good abrasion resistance. This extends the life of the workpiece.
Compared to steel, the ADI components are typically 20% less than steel and, moreover, weigh 10% less due to a lower material density.
"lighter than aluminum", ADI components are cheaper by 30% than aluminum, three times stronger than aluminum. Due to a density 2.5 times higher than Al, part of the ADI cast iron is lighter than aluminum.
Castings are much better than weldments in both appearance and mechanical properties.
ADI offers excellent workability in casting condition and conventional workability in hardened condition.
About company
1886-1948
Company founded by the Uxa´s family, focused on small-scale production of castings made of grey and malleable cast iron, the pintle and Ewart's chains, mainly for textile industry.
1949-1992
Nationalization, the name changed to Juranov's Plant, the transition from the traditional commercial production to the mass-production of the combat vehicles components for the armaments industry. ´
1991
UXA Ltd. founded, transformed into a commercial foundry plant oriented to the new markets of the European Union.
1999
Equipment renovation plus the introduction of the environmental-friendly technology, launch of the ductile cast iron production.
2008 - současnost
Entry of the strategic partner IUMEX S.p.A from Italy, extension of the production and shaping capacity of the castings.
Contacts
UXA spol. s.r.o.
Plotní 45
602 00 BRNO
tel.: +420 531 012 411
e-mail: info#zavinac#uxa.cz
DIČ: CZ44013353
file number: CC 3089 kept by the Regional Court in Brno
Bank accounts
CZK
IBAN: CZ02 2010 0000 0066 6777 8889
6667778889/2010
EUR
IBAN: CZ66 2010 0000 0007 8061 0378
SWIFT:
FIOB CZ PP
Business Department
Ing. Eva Foberová
Head of business department
tel.: +420 531 012 491
e-mail: foberova#zavinac#uxa.cz